Get Involved!
For more information on how to become a member or subscribe for updates.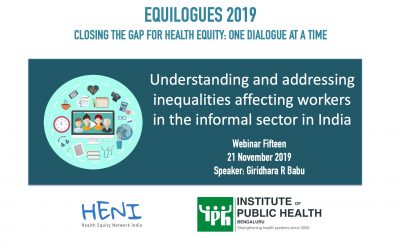 The Health Equity Network India (HENI) (with its secretariat at the Health Equity Cluster, IPH Bengaluru) is pleased to announce the fifteenth webinar in the Equilogues series in Nov 2019.
This webinar is based on the chapter 'Understanding and addressing the inequalities affecting workers in the informal sector in India' by Yamuna A and Giridhara R Babu (speaker) in the book 'Health, Safety and Well-Being of Workers in the Informal Sector in India'.
The speaker, Giridhara R Babu, is a professor and head of the Life-course Epidemiology Unit at the Public Health Foundation of India. In this webinar, he will discuss the inequality faced by informal sector workers, the current situation in India and ways to address the inequities affecting workers in the informal sector.
read more
Subscribe to updates/newsletter